As promised earlier,  this post is for Homeward Pets  in honor of National Shelter Appreciation Week.
June 2005. I had been browsing Petfinder for months, looking at all shapes, colors, sizes of dogs near me. I was actually secretly wishing my kids would randomly bring home a dog one day and ask "Can we keep it?", but never happened.  It was time to take matters into my own hands.
We hopped in the van in search of our new family member, I had several dogs at several shelters in mind and I had read up on puppy temperament tests just in case.
Our second stop was at Homeward Pets, I completed the intake form and heard some talk about a new litter of puppies just received.  Puppies? Of course we had to see the puppies!
It seems a sharpei jumped the fence and found his way in with an alluring lab for a moment of romance.  The result: 4 unplanned –but darling-puppies. I applied the puppy tests to Jake and home he came with us!
Jake became Buddy and served as our family buddy, friend and playmate for 9 years.  Homeward Pets was such a great shelter to work with that my daughter returned to volunteer with the cats in her senior year and then again to adopt two cats in 2013.
I'm grateful to everyone at Homeward Pets for providing the source of such joy in my home for many years. I so appreciate the thoughtful care you give each animal life. You are blessings to the animal kingdom.
Please see this post on ideas for honoring your local shelter.
The "kittens" Chloe and Lily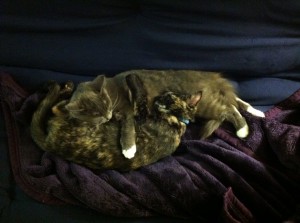 Puppy!