Ready for a test? Imagine you live in your home with a sweet adult dog. He's been very good about going outside to potty all of his life until he got sick, then he started using the rug by the front door. The illness cleared up, but he's still doing it. You've read my other posts and always tell him what you want him to do, not what you don't want, but still – there it is. So stop and think a minute – before you open the door and walk in, or before you round the corner in the morning, stop and check in about what YOU are expecting to see. Are you truly expecting to see a clean rug? Or are you expecting a pile on the rug?
If you do an honest check-in, and maybe realize that actually, you are expecting to see a pile, well that picture is what is being conveyed to the dog. And your dog doesn't want to disappoint you! In Dog's mind, "She's expecting a pile on the rug, so I better put a pile on the rug."
You need to be clear about your personal expectations.
There are many signs that we might not be truly expecting our animals to behave the way we say we wish they would. One sign might be tightening the leash as you approach another dog. Are you really expecting your dog to ignore the other dog? It doesn't feel like it to him/her, it feels like it's time to lunge, and that's probably the picture you're conveying. When the resident cat and the new cat pass each other in the hallway and you hold your breath as they approach, it seems more like you're getting ready to ref a sparring match than to have a peaceful passing. These are physical signs, but they are an indication of what you believe is about to happen. And again, the animals don't want to disappoint.
As I've mentioned in my other posts, it's extremely important to set clear expectations for them, and it's extremely important to use words indicating what you do want and not words that indicate what you don't want. But it's also equally important that you believe, and expect, that they will behave that way.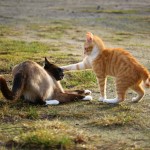 In order to help my clients clearly set their own expectations, I often recommend that they literally cut and paste photos together of what they want to see. Sometimes the brain needs a little help getting used to the idea of good behavior, so help it out with visuals. I asked my daughter to do this when she brought two kittens home from the shelter that were not family. Little Chloe wanted nothing to do with her new adopted "sister" Lily, so my daughter took pictures of them while asleep, cut and taped them together and hung it on the door. Every time she walked in her room she saw her two kittens sleeping together, and within three days, they really were!
This method works for many issues, and you've probably heard of people creating vision boards for themselves – well this is like a vision board for your animals! But YOU are the one that gets to look at it, and YOU get to feel how great it will be when they behave as desired.
Let's go back to arriving at home after work – what are you expecting when you walk through the door at night? A torn couch? Garbage all over the floor? Hair on the forbidden furniture? Do a personal check before opening that door.
Personal expectations are just one piece of the overall solution, so I challenge you to be ultra-aware of what you are really expecting – your animals know!
If you know someone that might find this information useful, please share!