Products by Karen:
GIFT CERTIFICATES!
30-minute phone session ($65)
60-minute phone session ($120)
60-minute in-home session ($145) – Seattle area only
$35 Class Gift Certificate (Essential & CBD Oils Class)
$65 Class Gift Certificate (EFT Class)
$150 Class Gift Certificate (Animal Communication Classes)
NEW! Guided Meditation for a Deeper Connection with Your Animals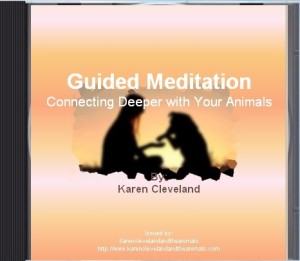 Connecting deeper with your own animals is a first step in animal communication. Being able to listen to their needs, wants, desires, followed up by positive action on your part, creates for a happier animal and a harmonious home.  This guided meditation will lead you into that deeper connection with your animal, creating a more satisfying life for both of you.
Download Pay with credit card or Paypal Here $4.97  you will receive download  immediately upon purchase. Please contact me if any issues.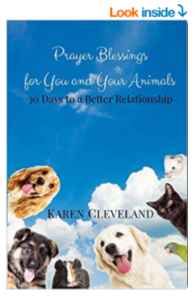 30 Days of Prayers Journal
Can Your Relationship With Your Pet Improve With Prayer?
Do you think it's possible that praying can affect your relationship with your beloved animals? I believe it can, and potentially in a very big way, so I offer you the opportunity to easily apply it in your own life for 30 days and see for yourself.
Prayer can be a very big topic, and can be quite personal. There are many forms of prayer, many ways to pray, and many things to pray about. This is not a lesson in prayer; this is simply using an affirmative prayer to reconnect with the Divine with your animals.
How to use this Journal?
Read each prayer personally, as in knowing the "I" in the prayer is you. Read the prayers with your heart, not just your mind, read them in a relaxed state and feel the essence of the prayer.
This journal will be very helpful for you to be able to refer back to thoughts and feelings throughout your journey.  Journaling helps bring the desires of the soul into our consciousness.
Order online directly from Createspace here
Recommended Books etc from other experts:
Intuitive Self Healing by Marie Manuchehri

Intuitive Self-Healing: Achieve Balance and Wellness Through the Body's Energy Centers
&nbsp