While the One Love Animal Center is under construction, have a look at the upcoming safari in November 2018!
One Love Connection Safari to Kenya
9 Days – November 10-18, 2018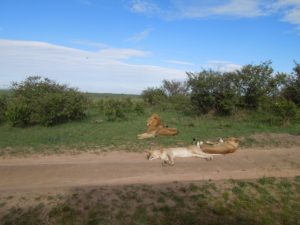 An African wildlife safari like no other.
Do you feel called to Africa? Maybe the wild lions lazing in the grass have summoned you for years. Or the graceful giraffes and zebras, and the powerful elephants, as they travel so elegantly across the plains, speak to a soft side of you. Then there is the mighty rhinoceros, the water buffalo, the leopard and the  cheetah, all in their unique place in the natural balance on the plains. Perhaps you just want to feel the dirt and breathe the air of the motherland. Whatever your reason, viewing wildlife in their natural, wild, un-fenced habitat is certainly an experience you'll never forget. AND being able to experience it with kindred folks of like mind, who also want a soul connection with the land and the wildlife, takes this safari to a whole new level!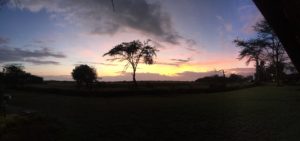 Imagine you, here.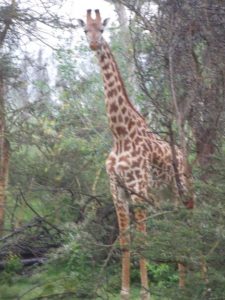 The trip.
Each day Karen will conduct a session on personal energy management and connecting with the land and/or animals around us. Depending on the needs of the day, this may include meditation, animal communication, introspection, journaling and/or discussion. Time will vary each day. This is optional for you to attend.
Day 1.
(Please keep in mind, Itinerary may need to change at any time due to unpredictable effects of Mother Nature on wildlife viewing.)
Pick up from Beach hotel or airport at 07.30 am and drive along Mombasa-Nairobi highway, enter Tsavo East through Bachuma Gate. Tsavo East is the biggest wildlife sanctuary in Kenya, noted for its vast elephant herds and a variety of game including giraffes, buffaloes, zebra, and waterbuck. Lunch at Voi Safari Lodge or Similar. After a short rest, proceed for an afternoon game drive till late in the evening, returning to the lodge.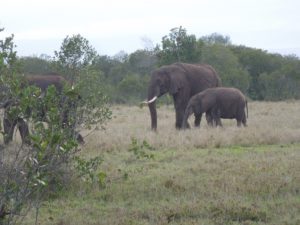 See OPTIONAL trip to Sheldrick Trust Elephant Stockade for foster parents.
Dinner and overnight at Voi Safari Lodge.
Day 2.
Voi Lodge and Tsavo. You can simply watch the herds of wild animals roam beneath you from the lodge, or journey out again into the park. From the Lodge, you can look out onto the three water holes and see the ever-changing Panorama of Africa unfold right before your eyes, all the while enjoying the luxury of waiters' service. There is a special 'HIDE' for photography enthusiasts affording close-up and candid pictures of the wild animals without alerting them to any human presence.
Dinner and overnight at Voi Safari Lodge.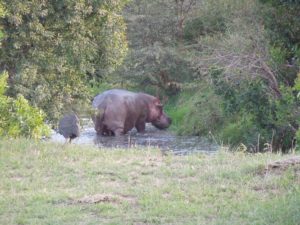 Day 3.
Spend more time at Voi Lodge and Tsavo.
Afternoon leave for Nairobi. Dinner and overnight at Anga Africa Tent Lodge or PanAfric hotel in Nairobi.
Day 4.
Enjoy breakfast, then to the Nairobi Baby Elephant Orphanage. Proceed to Naivasha. Descend into the rift valley, arriving at Naivasha Sopa Lodge for lunch. Lake Navaisha is a freshwater lake with a picturesque view of Mount Longonot, hippos, over 400 species of birds including pelicans, African fish eagles, African darter, cormorants and the lesser flamingos which are migratory.
Dinner and overnight at Naivasha Sopa.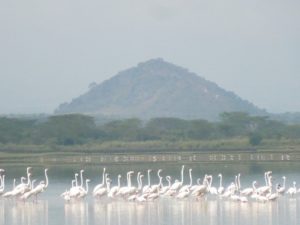 Day 5.
After a leisurely breakfast we'll visit Lake Elementaita in hopes of meeting the pelicans and flamingos. Then to Crescent Island on Lake Navaisha to connect with the resident grazers, such as the herds of wildebeest, waterbuck, zebra and gazelle. Hippo graze all around us at night, then sleep under the acacia or rest in the water by day. The giraffe who were born on the Island return to give birth; sometimes you see three generations at once. Hyena come to hunt at night, but are not resident on the island. The many python who do live here can be seen occasionally with a kill. Groups of buffalo come and go and are always monitored.
Dinner and overnight at Naivasha Sopa.
Day 6.
After breakfast, depart for Masai Mara, arriving in time for lunch. Afternoon game drive in search for animals. Masai Mara Game Reserve is the jewel in Africa's crown. Wildlife in Masai Mara is found in large numbers, and the game reserve has the highest concentration. Masai Mara is host to the most spectacular array of wildlife. Its vast expanse of open savannah, woodlands and tree-lined rivers create an ecosystem which supports huge numbers of bird and mammal species. The western border of the park is the spectacular Siria Escarpment, and together with the acacia dotted plains, creates scenery of stunning beauty.
Dinner and overnight Mara Sopa Lodge.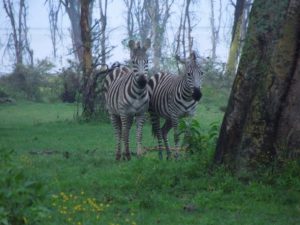 Day 7.
Masai Mara
Lion are found in abundance throughout the park, as are elephant, giraffe, a variety of gazelle species and zebra. Cheetah and leopard are also regularly seen and, if lucky, you may also find rhino. Game viewing is never dull in the Mara, and patience is often rewarded with unique sightings: a pride of lion stalking their prey, a solitary leopard retrieving its kill from the high branches of an acacia tree, male wildebeest sparring to attract females into their harem, or even a herd of elephant protecting their young from opportunistic predators.
More than 470 species of birds have been identified in Masai Mara National Reserve, many of which are migrants, with almost 60 species being raptors. Birds that call this area home for at least part of the year include: vultures, marabou storks, secretary birds, hornbills, crowned cranes, ostriches, long-crested Eagles, African pygmy-falcons and the lilac-breasted roller.
Dinner and overnight Mara Sopa Lodge.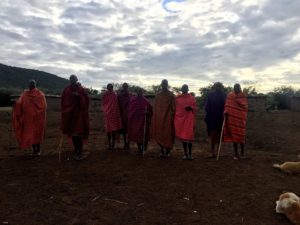 Day 8.
Spend more time in Masai Mara.
Optional Tour of a Massai village: learn how this tribe still functions in their traditional ways amidst a high-tech world. Pictures and questions encouraged.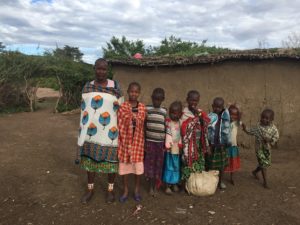 Closing dinner celebration and overnight Mara Sopa Lodge.
Day 9.
Breakfast at Mara Sopa.
Transfer to Nairobi Airport.
WHAT'S INCLUDED?
The price of this Connection Safari includes: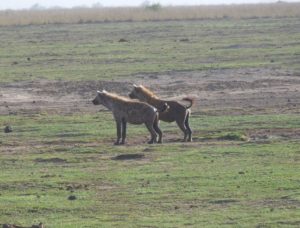 8 Nights & 9 Days in Safari Tent camps and lodges
8 Full breakfasts
8 box or restaurant lunches
8 Full dinners
Entrance into National Parks and conservancies
Daily sessions to expand on the land/animal connection, led by Karen Cleveland
Transportation to/from airport
Note: Itinerary is subject to change due to reasons beyond our control. Adventures may include moderate intensity walking on uneven surfaces. A sense of adventure and a practice of patience will go a long way.
PRICING FOR LAND PACKAGE: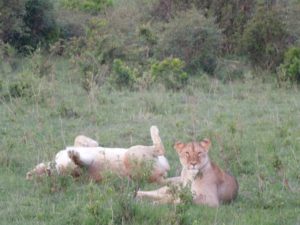 Most rooms triple occupancy. $3500 per person
Double occupancy (must sign up with partner) $4000 per person
Single occupancy $4600
Nonrefundable $300 deposit due to hold your space. Payment in full and payment plan available. Payment via cash/check/bank transfer. Credit cards incur 3.95% fee.
OPTIONAL: Visit the David Sheldrick Wildlife Trust November 10th. As a foster parent, you're invited to visit at 5pm when the elephants return to the stockade. You must become a foster parent and arrange with Karen by April 1st. Minimum $50 foster fee. More info on fostering here.
OPTIONAL: If you'd like to stay in Nairobi after safari, you can make arrangements with Rev. Connie Phelps. She lives in Nairobi and started the Center for Spiritual Living Kenya. She teaches Science of Mind classes and goes to a slum school once a week to teach the middle schoolers Science of Mind. Please note Rev. Connie does not provide food or transportation, but very affordable rooms out of her home. You may be able to visit her slum school if timing is right. Contact her directly to make arrangements: RevConnie@gmail.com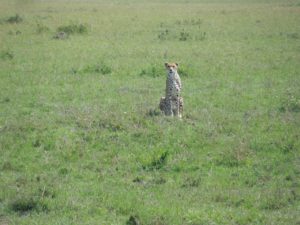 WHAT'S EXCLUDED?
International airline tickets
Travel and health Insurance and other items of a personal nature
Tips and gratuities for Safari tour guides, hospitality staff, Massai village donation
Meals and drinks, laundry, telephone calls, etc., not specified in the above
Souvenirs, curios, donations to local villages
Airport departure tax, if any
Pre- or post-safari accommodations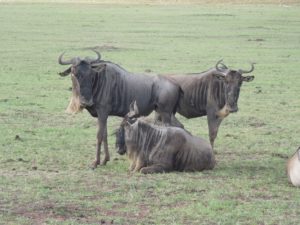 PAYMENT SCHEDULE AND CANCELLATION POLICY:
1. There is a non-refundable $300 deposit required to reserve your spot. Once you register, we will contact you with further information.
2. Registration can be paid in a single lump sum at registration or with 2 additional installments after the $300 nonrefundable deposit, as outlined below:
1st Installment – Due April 30th, 2018: $1600 trpl, $1850 dbl, $2150 sgl
2nd Final Installment – Due August 31st, 2018: $1600 trpl, $1850 dbl, $2150 sgl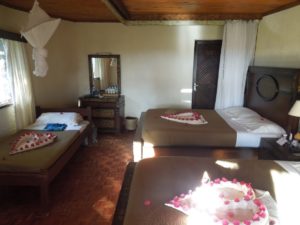 Cancellations:
If you cancel after April 30th, 2018, you will forego 25% of the land package
If you cancel after August 31st, 2018, you will forego 50% of the land package
If you cancel after September 30th, 2018, you will forego 75% of the land package
If you cancel after October 30th, 2018, you will forego 100% of the land package, no refund
Contact Karen Cleveland to sign up/make a payment/ask questions: Karen@karenclevelandandtheanimals.com or 206-715-4865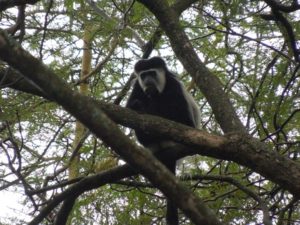 TERMS OF TRAVEL
Karen Cleveland (KC) is arranging a tour for interested parties to Kenya November 10-18, 2018. In today's uncertain world, it is possible that this trip may be cancelled due to circumstances beyond KC's control. Karen therefore asks that you consider and agree to the following before making a deposit for this tour.
1. I am eighteen (18) years of age or older.
2. I am physically able to complete this travel. Roads in the African bush can be very primitive and therefore rough and/or bumpy at times.
3. I recognize that KC is NOT a "seller of travel" as defined in RCW 19.138.021(6).
4. I realize that KC is arranging travel directly through vendors and will pay to the vendors necessary deposits from the funds I pay to KC. The deposits might not be refundable in case of a cancellation, no matter the circumstances.
5. I recognize that circumstances beyond the control of KC, such as an act of terrorism or the U.S. State Department's canceling all American flights to or from Kenya, might require a postponement or cancellation of this trip.
6. I agree to hold KC harmless if the trip is cancelled for reasons outside KC's control. Although I know that KC will do everything in her power to obtain refunds on my behalf, I will not hold KC liable for any refunds not received.
7. I understand that if KC cancels the trip for her own convenience, then I will be due a full refund.
8. There is a minimum $300 non-refundable deposit due at registration.
9. By registering, I am agreeing to the financial and time deadlines as spelled out above.
10. I agree that KC shall not be obligated to refund any cancellation penalties imposed by the vendor(s) with whom the services were arranged.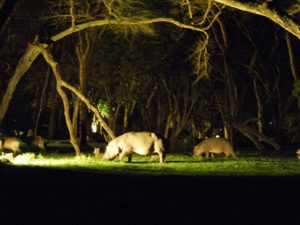 I hope you'll join me! Contact Karen Cleveland with any questions or to sign up: Karen@karenclevelandandtheanimals.com or 206-715-4865