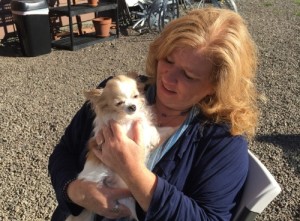 How long have you wanted to talk to animals?! For a lot of us the answer is FOREVER! And guess what? It IS possible!
This workshop will help you master the fundamental skills needed to communicate with the animal kingdom. You can use these skills to build a closer relationship with your own animals, connect with wild animals, or even have a more productive appointment with your animal clients if you are an animal professional.
Not sure if YOU can talk to animals?
Yes you can, even if you've never considered it before. I believe anyone can communicate with animals – it's part of our primary nature, all it takes is guidance, belief and practice.
There will be a complete breakdown of what animal communication is, how it works and how to do it, several exercises in which you're guided in connecting with an animal, plenty of student-centered discussion so all your questions are answered.
The class is taught in a safe space where each student is guided at their own pace. Because of the nature of animal communication, every student's path will be personal, unique and on their own time schedule.
Prerequisites:
None! Just a desire to learn and connect with our animal friends.
Materials students are expected to have for class:
Journal or notebook
Photos of living animal companions that can be exchanged with classmates
Comfortable dress for meditative time
Rested and alert mind and body
Eagerness to learn!
Upon completion of the class you will:
Identify how animal communication works, and why it's useful and important
Experience first-hand communication with several animals
Use the new skills to connect with your own animals more deeply and help others do the same
Connect with others of like mind
There is no such thing as the perfect student for this class. Anyone that wants a deeper connection with animals or wants to help them in any way is the right person. This includes pet parents, veterinarians, vet assistants, pet sitters and walkers, animal trainers and every other animal lover.
Many students will retake this fundamental class several times for the experience of connecting to as many animals as possible, and for meeting other like-minded animal lovers – this is encouraged and returning students always get a substantial discount.
Class Dates: March 10, or May 5, 2018, 10am – 5pm (Same class offered on all dates)
Location: One Love Animal Center in South Snohomish County
Tuition: $150 per person. Discounts available when you sign up for multiple Animal Communication Classes. For details and to sign up using PayPal, see below.
Animal Communication Classes: Tuition $150 per person
*For AC101, please include the date of the class you wish to attend.
Sign up for Two Classes: $275 (save $25)
*For AC101, please include the date of the class you wish to attend.

Sign up for Three Classes: $425 (save $25)
*For AC101, please include the date of the class you wish to attend.

Prefer to pay by check? Email karenclevelandandtheanimals [at] gmail [dot] com for instructions. Include the class(es) you would like to sign up for in your email message.